fan-necklace
by guest author lane yates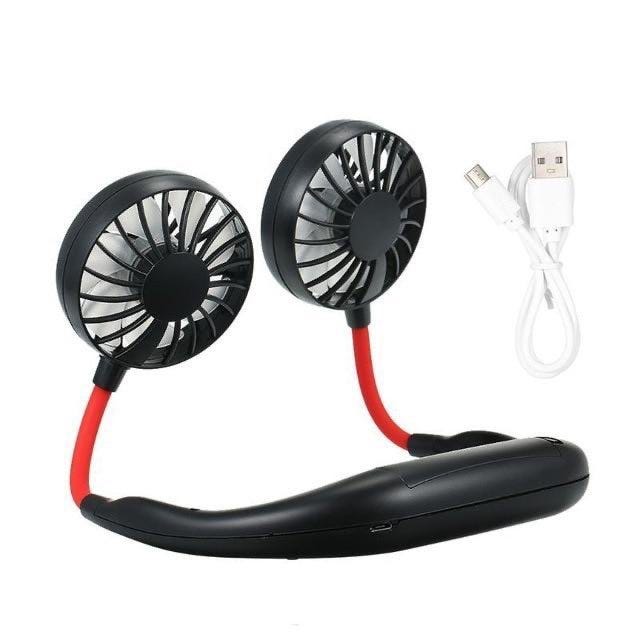 This Omelas is a guest post written by Lane Yates. She is the creator of the webcomic Single Camera Sitcom. Her Twitter is @lane_lane_lane.
---
Denise is standing in the doorway; she is sweating. it's hot in the room she's in for many reasons the carpet is matte and fuzzy all the furniture contains heat and the fan is spinning hardly everyone is looking hopelessly.
— -old front passing through the low pressure syste- 
The room rapidly as it is laid out: Jim, Timmy, Dianne, Imogen, Kattie, Jennifer, Jennifer, Denise (sweating). 
—what's that on yr neck Denise? What's that is that one of those things those, those FANS? 
—yes, it's a fan. It's to hel- 
—that's great! That's great! Y'know the other day I was at a yard sale and I found one of those for, what was it, two dollars? How mu-
—I bought mine on amazon, act-
—Oh I lohhhhve Amazon. 
—Me too
—DID Y'ALL SEE THAT WRECK A FEW MILES BAC- 
—honey, your hearing aide's turned off.
—Oh, *huh,huh* I'm sawry, I fergott
Heat in the unheated room is building a barrier between Denise and the rest of her family that she hardly recognizes, as she isn't very concerned with what they're saying more-so the idea that she might suffocate and fall into the matte fuzzy carpeting and will spend the last moments breathing sharply and staring at the pop-corn ceiling with texture giving her a final migraine. And. Pinch. 
—Ow... 
—are you okay…? 
—yes, well, yes. I'm kind of hot. 
—then go outside? 
—no everyone is staring
—well turn your fan up 
the hum hiss of her fan turns on to the highest possible setting after she has turned it down to a lower setting and then to a higher setting. her eyes were broaching eyes in the room, around the room. frequently counterclockwise to calm herself down the clock on the wall icking high-audible. Jennifer is crunching ice
—DID I TELL YOU ABOUT SIMMY'S FOOTBALL GAME HE GOT ON THE VARSITY TEAM THIS YEAR AND HE WAS WORRIED, Y'KNOW, BECAUSE HE'S SUCH A HEAVY-SET BOY THAT HE'D HURT SOME OF THE SMALLER BOYS ON THE TEAM WHEN HE WAS PLAYING JUNIOR VARSITY BUT NOW HE SAYS HE DON'T HAVE TO WORRY ABOUT THAT. 
and nothing anyone could do about it, Jennifer's just talking about her grandson and her nephews and their girlfriends that they see on the weekends, but she can't hear anyone reply to her because she hasn't been able to hear that well, progressively, for the past fifteen years. Denise's fan-necklace cools her neck; it doesn't get past her chin and she realizes that she, too, has been gaining weight. She's not sitting, she won't sit down, sitting is staying and, hopefully, she'll be able to leave in a minute or two to go back home and sit back down. She is looking at her husband and what she hears, she hears beyond the buzzing of her fan-necklace that cools her neck down a little bit. 
—Denise can I get'chu somethin' we've got water, tea, sun-drop, coke, beer, mtn-dew… 
—no- I'm alright
It's 2pm on Sunday the race is on the television. She thinks it's Talladega. It could be anything. 
—THEY HAD A ROUGH DAY YESTERDAY AFTER A FEW ENGINE FAILURES AND THEY'RE STARTING WAY IN THE BACK OF THE PACK- 
If Denise had to make a guess at the volume on the television she would say it was 3/4 of the way to full volume, but her place in the door-jam-entry-way leading toward living-room makes it impossible to see the screen or the volume-temperature that is frequently adjusted toward commercial and back to its usual setting once the advertisements conclude. 
...
A conversation in the future:
—We have to go. I know you don't want to go, and I understand why it's intimidating, but we have to go and see him. He's getting so lonely without her. 

—I just don't want to be in there. 

—I don't want to be in there either. I think if we just do it together. Hey, I'll   go with you. We can be in there together.

—when you break down your phrases like that I feel like you're acting like I don't understand what you are saying, and what you mean by what you are saying. Both of which I apprehend fully.

—Uh, Ok. 

—Uh okay? 

—I just want things to be normal between me and your family. I don't want them to think that I don't care about what they're going through. 

—"They're"?

—Well, yes. I understand what you're going through and I know you know I'm trying to understand. I just want them to know that I'm trying to understand what THEY'RE going through. 
…
In the garage, Denise is alone and still very-much overheated. Her fan-necklace seems very silly now that she is thinking about it in the context of retro-spective company. Smells pour over her and everything becomes more acrid looking at cast-iron implements and gold-spined children's literature she's thinking about how long it's going to take her and her husband to get back to their apartment in numbered hours. Two hours to her mother's, ten hours of pleasant company (she likes her mother and her mother's husband), eight hours sleeping, three hours airport, two hours plane, one hour(s) transit to the apartment, and all of that time between here and now collapsing those hour-estimates or expanding them based on incident or pleasant going. Both favorable and unfavorable outcomes cross her mind like the possibility of lost-luggage or the possibility of an obscene police-stop on the way to the airport, or the possibility of missing their flight, or oversleeping, or contracting a sickness that completely negates the making of coming home a pleasant thought. 
—Are you okay?
—What? Yeah? 
—Okay, sorry, didn't mean to bother you - you left really quickly
—I said I was going to get a drink
—It's been 5 minutes
—So?
—Well don't you think that's a little rude?
—…
—I'm sorry I didn't mean to ask you that. I know they're not MY grandparents they're just ...  they really like me! 
—I'm very glad you like them, and that they like you. They like me too-
—Exactly! That's why we should sit with them 
—…
—okay, sorry take your time. 
—I don't want to be out here anymore. Honestly, thanks for coming to get me. 
—AND LAST YEAR HE GOT A JOB WITH A CAR DEALER-SHIP THEY TELL ME HE'S DOING GREAT HE'S SELLIN' A LOT'SA CARS. 
 Upon reentering the space of the house Denise begins to sweat highly and to feel faint around the knees: refusing, still, to sit. Her fan-necklace is performing strangulation as an effect of the movement required to move from the garage door to the open room where everyone is sitting and talking out-loud to no-one. She scratches her back obviously and her husband offers a rejoinder to ease their movement to the car-port. 
—Okay! Bye Angel! I love you! 
In the moments of escort from the door to the carport Kattie, her grandmother, slips a twenty dollar bill into Denise's pocket. They exchange a recording glance that places this action in a history of actions similar to this one with differing amounts of money depending on the state of the year's economy. 
—Thank you! Thank you so much! 
—You know I always take care of my little pride and joy… remember I always love you. Thank you for coming to see maw-maw. 
Denise gets into the car with her husband and she removes her fan necklace. The model of car they have rented for the weekend is quite new and the air conditioning is remarkable. In any case, she is no longer sweating. Her husband looks at her. 
—now that wasn't so bad.